Congratulations! You've signed up for your first yoga class as the Yoga Center Retreat. We know you can't wait to dive right in.. and that's why we've made this list of super useful yoga terms that you should know in advance in order to have the best first yoga class experience!
1. Asana
What it is: 
The word asana simply refers to the physical poses and postures practiced during yoga class.
Why it's useful: 
Asanas provide both physical and spiritual benefits and are known to improve strength, flexibility and alleviate pain, stress and increase sleep.
2. Vinyasa
What it is: 
Vinyasa is a smooth and dynamic transition between asanas especially when paired with the breath. A Vinyasa yoga class will  incorporate a dynamic flowing sequence of yoga postures linking breath and movement.
Why it's useful: 
This style of yoga was developed during the 20th century and is one of the most popular styles of yoga in the United States. You'll cultivate awareness while building core strength and flexibility.
3. Pranayama
What it is: 
Pranayama loosely translated from Sanskrit means "breath control." Pranayama is the formal practice of controlling the breath, which is the source of our prana, or vital life force. A typical yoga class will incorporate different pranayama techniques to help you in directing your breath in certain areas.
Why it's useful: 
Through pranayama, you use the breath to affect the constellation of energy that is your body-mind.
4. Drishti
What it is: 
Drishti literally means "sight" and refers to the gazing technique practiced while holding a yoga pose. Often times a yoga instructor will let you know where your drishti should be during a yoga class.
Why it's useful: 
Drishti supports and improves the practice while establishing self-awareness. It is also used during meditation to improve focus and aid in sense withdrawal. 
5. Bandhas
What it is: 
The word bandha is a lock or bind in yoga, which is performed in order to direct and regulate the flow of prana (life force energy) to various body parts.
Why it's useful: 
There are four bandahs and each one is associated with a specific energy channel and performance of a particular bandha will influence the flow of prana to that channel.
6. Chakras
What it is: 
A Sanskrit word for "wheel," chakras are body energy centers that correspond to various glands along the spine and inside the skull. The seven chakras are the centers in our bodies in which energy flows through.
Why it's useful: 
There are 7 chakra points in the human body according to the yoga tradition. By practicing yoga one channels her/his chakras to the circulation of spiritual energy essential for health and emotional well-being.

7. Namaste
What it is: 
The word namaste  is derived from the Sanskrit nama, meaning "bow," and te, meaning "to you." The gesture Namaste represents the belief that there is a Divine spark within each of us that is located in the heart chakra. The gesture is an acknowledgment of the soul in one by the soul in another.
Why it's useful: 
Namaste is an acknowledgement of a spiritual connection and is a customary salutations offered by yoga instructors to their students.
8. Savasana
What it is: 
The name Savasana comes from two Sanskrit words – sava meaning "corpse" and asana, meaning "pose". Savasana is used to end each yoga class. Savasana is a pose typically performed at the end of a yoga class in which practitioners lie flat on their backs with the heels spread as wide as the yoga mat and the arms a few inches away from the body, palms facing upwards. Generally a yoga instructor will ask you to close your eyes and guide you through a short meditation.
Why it's useful: 
Savasana is very important to help ground you after your practice and seal in the energy you experienced.
9. Om
What it is: 
The term Om refers to the sound of universal creation according to the sages.

Why it's useful: 
Chanting the Om in preparation for yoga invites the practitioner to enter a state of mindful, physical and emotional awareness.
10. Ujjayi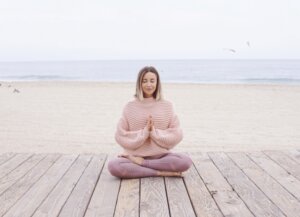 What it is: 
Ujjayi is typically translated as "victorious breath," and has been used for thousands of years to enhance hatha yoga practice.
Why it's useful: 
In this breathing technique both inhalation and exhalation are done through the nose. This audible breathing has been compared to ocean waves or cobra breath.
Now you've nailed down the top 10 yoga words that you need to know in order make your first yoga class experience amazing. We can't wait to see you at the Yoga Center Retreat!
Check out our class schedule: www.theyogacenterretreat.com/schedule