230-Hour (RYT 200) Yoga teacher Training
Upcoming 230-Hour Programs
PROGRAM START DATES
9-Month Programs
Thursday evenings start September 14th
Friday days start September 29th
Interested?
For pricing and to learn more about our 230-hour yoga teacher training, please email Jennifer Gray.
Training Component Highlights
1. Core sessions
Weekly or monthly experiential learning sessions with your yoga training cohort where you delve in to the yoga practices and principles that will become the foundation of your teaching.
Asana Technique
Yoga Anatomy
Chakras
Pranayama
Yamas and Niyamas
Sanskrit
Foundational Principles of Sequencing
Ayurveda
Yoga Sutras
Core group sessions are once a week on a 9 month schedule.
2. Technique sessions
Tech sessions provide 25 opportunities to explore key yoga topics that interest you and customize your training experience.
Tech sessions are offered multiple times each week on a wide variety of topics. Spread these elective-style classes out over the course of your training when it works best for your schedule.
Thursday days: 11-12:30PM CT
Saturday days: 4-5:30PM CT
Sunday evenings: 4-5:30PM CT
3. workshops + weekend intensive
Three in-depth, 2-hour workshops and a weekend-long intensive training will allow you deep dive into a concept or topic that embodies key ideas of yoga.
4. mentorship and practicum
Demonstrate everything you've learned in feedback sessions with your peers faculty input.
5. karma yoga project
Bring your yoga into the world with your Karma Yoga project. Focusing on underserved populations, your yoga training cohort will choose a local community partner and bring free yoga to its members.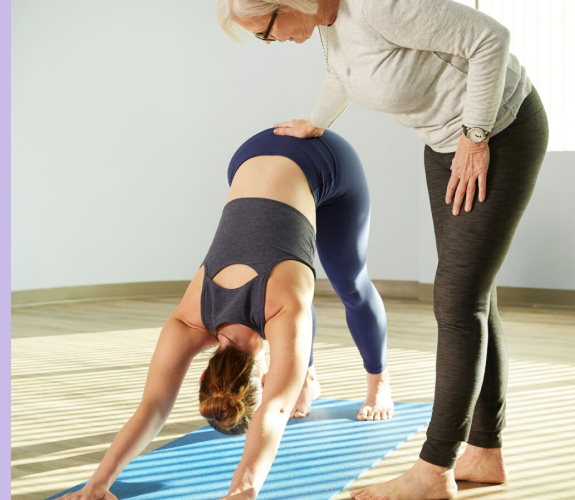 Emily Wright
The 230 hour yoga teacher training was a phenomenal experience for me! This is such a well-rounded program–it's stacked with a wide array of incredible teachers, a strong set of core classes, and a large variety of technical sessions and workshops. At the beginning of the nine months, I had no intention to actually become a teacher. I just wanted to heal and deepen my practice. But at the end of the program, somehow, I could actually see myself as a yoga teacher. Jen Gray knew what she was doing when she created the curriculum. My classes were primarily taught via zoom, and I found the convenience of it all to be lovely. I thought I would miss out on the in-person aspect, but it worked quite well and they were still able to cultivate a wonderfully healing and supportive community. I would highly recommend this program to anyone! What a game changer.
Roberta
I am getting amazing training with a great group of women and men and I am building more confidence as a teacher. The expectations of students is high, but so is the level of support.
Amy B.
This program has provided in-depth knowledge of yoga and yogic practices from all different view points. I cannot find another program that provides this type of information. All the teachers are kind, and supportive, wonderful mentors for someone looking to become a yoga teacher or just expand their knowledge. I would and have recommended this training to everyone I know or have met who is interested in a deeper understanding of yoga.
Briana H.
I'm 3/4 of the way through the Yoga Teacher Training Program and it's been stellar. When I talk to my friends who have gone through other YTT programs in the cities, I can tell that the breadth and depth of this course (in addition to the super knowledgable instructors) is setting me up much better for success in expanding my own personal practice and as I start to teach classes. The only thing I would have done differently is take the course sooner.
Jordan N.
This isn't just a yoga studio but an amazing community to be a part of. There is always a friendly face excited to see you when you walk through the doors. There is such a wide variety of yoga classes available and the teachers are amazing. I can't recommend this studio enough for anyone looking for a true, authentic yoga studio and a wonderful community to go with it.
Jess S.
The Yoga Center Retreat feels like a second home to me. Jen Gray and the rest of the wonderful team have brought together a phenomenal yoga community. I am in the 230 hour yoga study program and am very pleased with my education and how it is enhancing my personal practice.
Bethany B.
A brand-spanking new beautiful studio – top notch instructors and extremely welcoming to all bodies and abilities. There is an amazing variety of classes and workshops for any interest in yoga you might have. The owner Jennifer Gray is always welcoming and super happy to see her students show up here. Lovely boutique with the best selection of wellness books, essential oils, mats and props. Tons of easy parking and a convenient location for those who travel in and around the Excelsior Blvd/St. Louis Park area.
Anastasia G.
I love the wide variety of instructors, backgrounds, and perspectives. It is such a calm and inviting space. I leave every time with a bit more calm and a little more wisdom.
the yoga center retreat is a 200-hour yoga alliance school