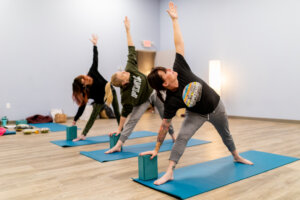 Are you ready to take your yoga practice to the next level? And do you want to experience a deeper yoga journey as a student? Then you should take advantage of our 300hr Advanced Yoga Training Program!
Our curriculum is unlike any other, and in this post, we'll tell you just why you should sign up for our 300hr Advanced Yoga Training Program today.
At the Yoga Center Retreat, we view yoga as an experience, as a journey, not just a class or an exercise. Moreover, because of our mentality, and because our 300hr curriculum has been molded over the past 20 years by experts, our 300hr training program is unique, and unlike any other.
We provide our students with an all-immersive and meaningful yoga training experience. How? Well, our 300hr program covers a variety of disciplines in a comprehensive manner, including the following:
Foundations in Yoga Philosophy

Anatomy and Alignment

Foundations in Breath for Asana

Sequencing Principles of Asana

Sequencing Principles For The Subtle Energy Body

Applications of Yoga For The Emotional Body

Ayurveda

Development of Pranayama and Meditation Practices
Because of the incredible depth of our 300hr Advanced Yoga Training Program, the curriculum is truly unique, unmatched, and we are proud to be able to offer this program to our students.
Not only that, but we make sure that all of our students receive the mentorship, guidance, and support they need in order to succeed and flourish throughout our 300hr Advanced Yoga Training Program, and also once they have completed it.
Another thing that makes our program unique is that we build a sense of community with our students, and we make sure that our space is an inclusive and welcoming space for all.
For more information about our 300hr Advanced Yoga Training visit our website at https://www.theyogacenterretreat.com.