E-RYT 500, YACEP | MEDITATION, Yoga Nidra, Yin Yoga, Gentle Yoga
Tara's first introduction to the yogic path was in 1970 when, at the age of 13, she read Siddartha by Hermann Hesse. The wisdom in that book made such an impression, that she taught herself to meditate by gazing into the flame of a candle. Many years later, she learned that this technique is called trataka and is a valid tantric technique for meditation. Being exposed to Eastern teachings at such a young age made a lasting impression on her. The inner knowing that there is more to life than the "seen" world is what drew her to, and keeps her on a yogic path, and is what she strives to bring to all of her classes.
In 1987, Tara discovered the joy of hatha yoga. In 1993, she received her first 200 Yoga Teacher Certification at Expanding Light in Grass Valley, CA and has been teaching yoga ever since. That same year she was initiated into the tantric form of meditation known as Kriya Yoga as taught by Paramahansa Yogananda.
Since that time, Tara has received certifications and completed trainings in: DansKinetics from Kirpalu Center in 1999, Atma Yoga from Christopher Baxter in 2001, Ashtanga with Doug Swenson in 2002, Yoga of the Heart Cardiac & Cancer with Nischala Devi in 2004, JAI Prenatal with Jennifer Gray in 2006, Yin yoga with Paulie Zink in 2007, Yogic Mystery School and trip to India with Russill Paul studying Nada yoga in 2008, Vini Yoga with Gary Kraftsow in 2012, and goddess philosophy and meditation with Sally Kempton at Mt. Madonna in 2014.
Over the years, Tara has brought together all of her favorite teachings and experiences into what she has named Radiant Shakti Flow which incorporates the Hindu Goddesses, ritual, chanting, drumming yogic warms, creative movement and yoga nidra for a full experience of the sacred.
Tara had the great pleasure to drum for Shakti Chant Band who performed kirtans around town for 8 years, and now plays in Shakti Bhava with her dear friend Coco.
Teaching yoga has brought great blessings to Tara's life. She taught workshops, immersions, and drop-in classes at Yoga Center of Minneapolis (YCM) from 2000-2018. She was also involved with YCM's 200-hour Yoga Teacher Training program and taught in the Advanced 500-hour training there. Currently, Tara teaches workshops, specialty series and classes at The Yoga Center Retreat and teaches as part of the Faculty in YCR's Minneapolis Yoga Training Program.
Tara feels it is both an honor and blessing to help train teachers in this ancient art and science so that the full wisdom of yoga is passed on.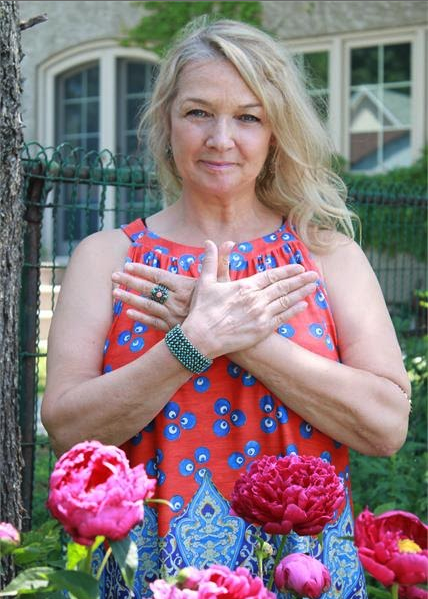 "Only God can worship God, only Goddess can worship Goddess, you become what you worship and you worship yourself."
What is Your Favorite Style of Yoga?
Meditation, Yin and Gentle Flow.
CHAI, COFFEE, OR KOMBUCHA?
All, but mostly coffee 😉
DO You hAVE PETS and If so, what kinds and their names?
No Pets after our dog Buster passed away a few years ago.  He lived to be 17 and was a beloved member of our family.
FAVORITE THING TO DO WHEN YOU're NOT DOING/TEACHING YOGA?
Be in nature, play with grandkids, create art.
FAVORITE BOOK/MOVIE?
Book: Initiation by Elizabeth Haich. Movie: Willow.
LEAST FAVORITE YOGA POSE AND WHY?
Any pose that takes my body out of steadiness and comfort.
MOST FAVORITE YOGA POSE AND WHY?
Dragonfly in Yin, it grounds me and restores me equally.
IF YOU COULD DO ANYTHING BESIDES TEACH YOGA, WHAT WOULD YOU DO?
Park Ranger to be immersed in nature, or florist to be immersed in flowers.
What do people tell you they love about your classes?
Folks say they like the sound of my voice and how they feel very relaxed and peaceful after class.
three adjectives to describe yourself?
Passionate, compassionate and creative.
What else would you like to share with your students?
Like so many of us around the world, yoga is not just my practice, it's my life. Yoga is not about the postures, it's about how we live and treat other people, and how we treat ourselves. The practices of yoga are a training ground for love, self acceptance and empowerment.