Holly Schramm has been teaching yoga since 2007. Both her 200 hour and 500 hour trainings were under the auspices of Jennifer Gray at The Yoga Center of Minneapolis. She taught classes and workshops there for 11 years and also taught in the teacher training program.
She started out as an Ashtanga teacher with training under Sri Patabi Jois, David Swenson and Michelle Lynn. She evolved to teaching Vinyasa as it stimulated her joy of choreography after 15 years as a professional dancer. Her Vinyasa training is highly influenced by her teacher Sydney Holly. Holly has also received trainings in Yin Yoga with Michelle Pietrak-Wagner, Meditation with Tara Cindy Sherman, Chair Yoga with Jessica Rosenberg and Yoga Nidra with Kevin Kortan.
Holly's classes tend to be very spiritually oriented, humorous and you just might dance! Sign up for teacher training and she'll help you experience the empowering joy of becoming a yoga teacher.
LEARN MORE ABOUT Holly
What is Your Favorite Style of Yoga?
 Vinyasa, Avita, restorative, yin. The order depends on the day!
CHAI, COFFEE, OR KOMBUCHA?
I love my morning coffee with a lots of cream right after my warm lemon water.
DO You hAVE PETS and If so, what kinds and their names?
I have two grand dogs. Sage is a Nova Scotia Duck Tolling Retriever and Loup is a Yellow Lab . Does that count?
FAVORITE THING TO DO WHEN YOU're NOT DOING/TEACHING YOGA?
Paddle board on Ban Lake.
FAVORITE BOOK/MOVIE?
 Book: Marcel's Letters by Carolyn Porter. Movie: Stranger Than Fiction.
LEAST FAVORITE YOGA POSE AND WHY?
Urdva Dhanurasana/Full Wheel : I have tight shoulders. I look like a box and feel like one too. There's nothing wheel about it.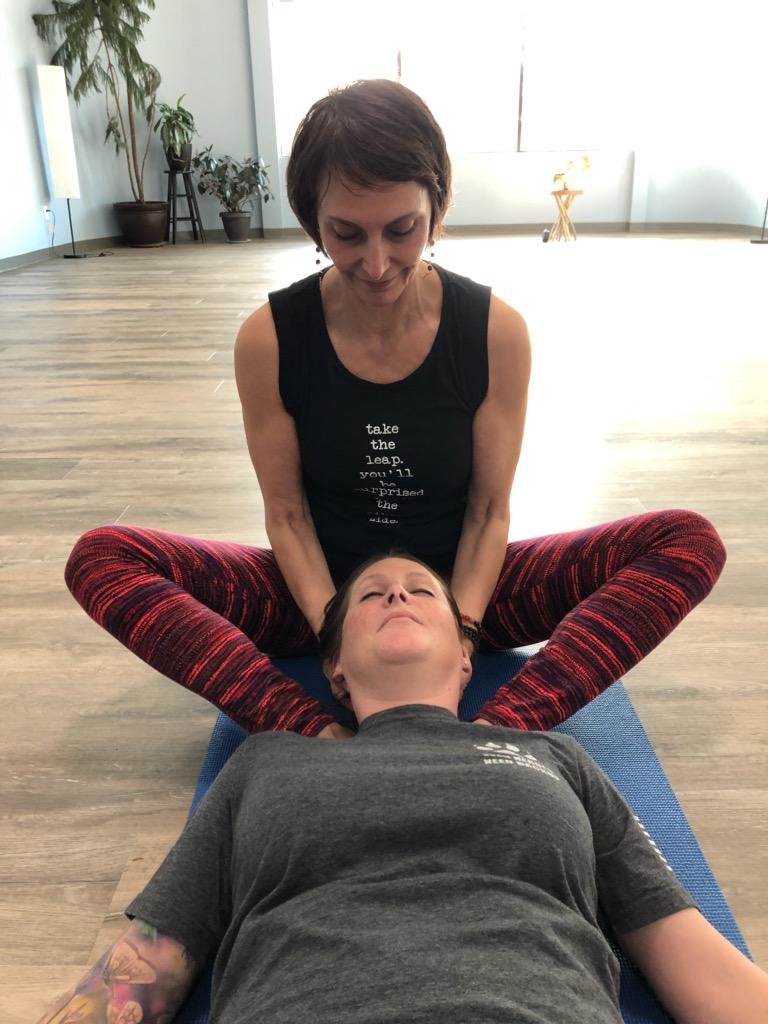 "I am a hole in a flute through which the Christ's breath moves through."  ~

Hafiz
MOST FAVORITE YOGA POSE AND WHY?
Pigeon pose is my fav because of all the variations and I try to get them all in. Puffing up for the heart opener, sleeping for the hip and hamstring opener, threading arms through for a nice torso twist and ending with King pigeon for the quad stretch.
IF YOU COULD DO ANYTHING BESIDES TEACH YOGA, WHAT WOULD YOU DO?
 I'd work in the non-profit sector for homeless youth. Or I'd be a rock star.
What do people tell you they love about your classes?
Mindfulness and sequencing.
three adjectives to describe yourself?
Authentic, spiritual, positive.
What else do you want students to know?
There's something here for you. Find what you resonate with. Take risks and find the gem in all of your experiences.