RYT 200 | VINYASA, SLOW FLOW
Andrea completed her 200-hour through the Yoga Center Retreat.
I am thrilled to be part of the Yoga Center Retreat community! I completed my 230 yoga teacher training at the end of 2019 and started to teach at the beginning of 2020. My initial desire for the training was to deepen my own practice and learn as much as I could about all that makes up yoga. It was an amazing experience and am extremely grateful for Jennifer Gray and all of the amazing teachers who passed on both their knowledge and passion for yoga. My only regret was that I didn't do it sooner.
As a teacher, my goal is to dispel the myth that one has to be flexible to do yoga. Yoga is for everybody and every BODY. No matter how far one gets into a pose, everyone receives the same benefit. Furthermore, what makes yoga so special to me, is the incorporation of both the movement and the breath. The combination of the two allows one to be more present and in-tune with the body and the mind and the benefits last long after savasana.
» Book a class with Andrea
learn more about andrea
WHAT IS YOUR FAVORITE STYLE OF YOGA?
Vinyasa
CHAI, COFFEE, OR KOMBUCHA?
Coffee
DO YOU HAVE PETS AND IF SO, WHAT KINDS AND THEIR NAMES?
Dog: Amare. Cat: Sammy. Chinchilla: Yang.
FAVORITE THING TO DO WHEN YOU'RE NOT DOING/TEACHING YOGA?
Digging in my garden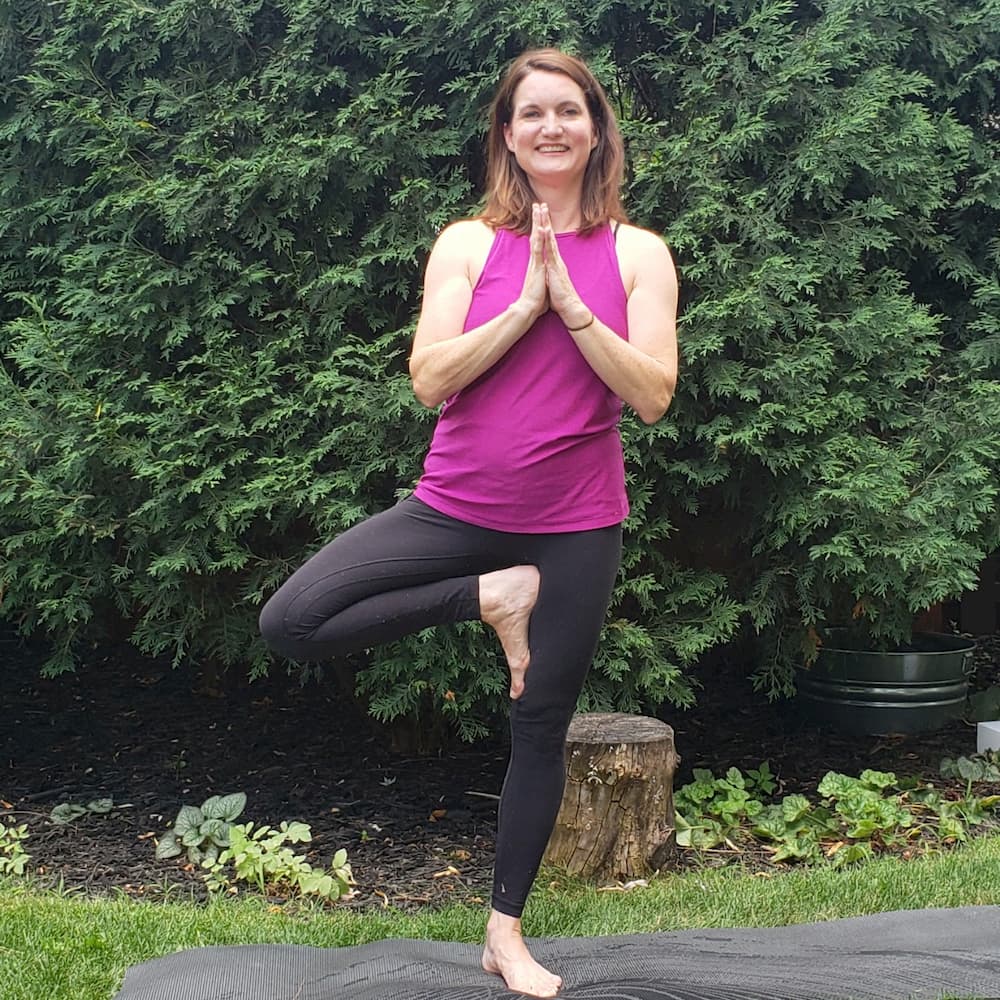 "IF THE ONLY PRAYER YOU SAID IN YOUR WHOLE LIFE WAS 'THANK YOU' THAT WOULD SUFFICE  ~MEISTER ECKHART
FAVORITE BOOK/MOVIE?
So many to choose from but right now the first movie that pops in my mind is The Greatest Showman and for a book I would say Fish In A Tree. My daughter and I read this book together and it is not that far from my mind. It was just so touching.
LEAST FAVORITE YOGA POSE AND WHY?
Camel. I always get dizzy!
MOST FAVORITE YOGA POSE AND WHY?
Tough one but I think I have to go with Warrior II. One gets so much strength and confidence from this pose!
IF YOU COULD DO ANYTHING BESIDES TEACH YOGA, WHAT WOULD YOU DO?
I'm a Category Analyst by day so yoga is my bonus gig. If I had to replace yoga it would need to be with something that provides the same amount of joy and connection. I think I would volunteer at a school or an animal sanctuary.
WHAT DO PEOPLE TELL YOU THEY LOVE ABOUT YOUR CLASSES?
I have been told they like my voice and the pace of the class. I'm still very new so feedback is welcomed!
THREE ADJECTIVES TO DESCRIBE YOURSELF?
Compassionate, Grateful, Curious
What else would you like to share with potential students?
I completed my teacher training at YCR at the end of 2019 and now I am so proud and happy to be part of this community!! What I love the most about teaching is providing a space and an opportunity for others to disconnect from all the external noise and distractions and connect to what is going on inside; to truly tap into both your body and mind.