What is a successful practice? Amanda believes that a good practice should touch the parts of a person that need healing. Amanda started practicing yoga out of a physical illness, and in doing so, discovered how the mind could be elevated through yoga. Once she experienced how breath, mindfulness, and meditation bring about significant change she continued on to study in a living Himalayan tradition.
Amanda has taught various methods of yoga and eastern philosophy for more than 10 years. As a student, each teaching has given her something she needed. Amanda offers her class out of a desire to expose people to the profound healing and life enriching practices and teachings of yoga. Her desire is to create a stimulating, safe, and comfortable environment where students can identify opportunities and explore the limitless potential in their minds and bodies.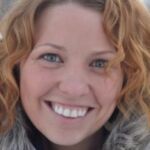 "Be the change you want to see."  ~Mahatma Gandhi
What is your favorite style of yoga?
Hatha Yoga. I think of Hatha as an all-encompassing and a classic form of health and energy management.
Chai, coffee or kombucha?
All of the above. I will admit I like caffeinated beverages.
Do you have pets?
I had an amazing, large, and gentle, pit bull named Fred that lived to be 12 years and was an amazing rescue dog. I am so grateful for the 11 years he gave to our family.
Favorite thing to do when you're not doing/teaching yoga?
My favorite thing is being in the backyard with my family, gardening, and hanging in our hammocks together.
Favorite book/movie?
I could name so many, I love to read, but If I have to choose a favorite I will say, The Alchemist by Paulo Coelho.
Least favorite yoga pose and why?
It depends on the day and how I am feeling. I don't really have a least favorite, but if I had to pick I would say chair pose.
Most favorite yoga pose and why?
It depends on the day and how I am feeling. I don't really have a most favorite, I guess I would choose Shavasana.
If you could do anything besides teach yoga, what would you do?
I would be a full-time philanthropist.
What do people tell you they love about your classes?
I am not completely sure, I think it is the community and relationships that the students have created with each other. They continue to amaze and inspire me as they Share, Listen and Support each-other as life teaches us many lessons.
Three adjectives to describe yourself.
Self-reflective, sincere, confident.
What else would you like to share with potential students?
My class or yoga practices are born out of a desire to improve myself. I use classical yoga scriptures and the teachings of my tradition to observe my actions, thoughts and energy, to continue to grow as a human being and member of our community. The students in my class continue to teach and inspire as they bring their wisdom and voices to the conversations we have on classical teachings and applying the philosophy to our life experiences.