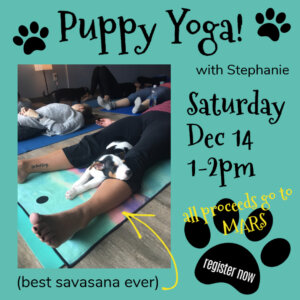 It's no secret that The Yoga Center Retreat team loves dogs. Most of us have at least one (or wish we did). When you stop by for class or to check out the boutique, you might see a beloved canine hanging out with the front desk staff and greeting guests.
So, when the opportunity to combine our love of dogs with our passion for yoga in a Puppy Yoga class benefitting Midwest Animal Rescue & Services, we jumped at the chance. We're excited to host our third Puppy Yoga class on December 14 from 1-2 PM.
I recently got the chance to sit down with Camille Bates, Community Relations for Midwest Animal Rescue & Services, to learn more about the organization and how puppy yoga helps them continue their mission. Our discussion can be found below:
How did MARS get started?
We started in 2006 and have adopted out over 18,000 animals since then with a 99% adoption success rate. Once they go home, they stay home!
We take in dogs from local impounds and surrenders. In addition, we have the opportunity to help save dogs from states like Oklahoma, Texas, and Missouri where pet culture is very different than in animal-friendly and rescue-aware Minnesota. In many states, pets are seen as disposable rather than as family members. If a dog gets lost, they don't go looking. Instead, they go to the flea market to get a new puppy.
If folks want to find out more about your formal mission, where can they go?
We're committed to serving both pet and parent, finding homes for animals that were once lost, left behind and forgotten, while bringing harmony and enhancing education in our community. You can learn more about our beliefs, mission statement, and vision on our About Us page.
What's the best thing about puppy yoga?
The joy! Seeing the puppies run around the room, making people smile, while raising money to help save even more animals–it's a gift beyond words to be apart of these events at The Yoga Center Retreat.
How are the proceeds from puppy yoga used?
They all go back to our mission! We included the word "Services" in our name because we are more than just an adoption agency. We support both ends of the leash: the rescued pets and their new parents holding the leash. Events like Puppy Yoga spread peace and joy while allowing people to embrace the love of a puppy.
MARS is funded through our adoption fees, services offered and donations. When our organization receives $1.00, 86¢ goes back to supporting both the pet and the parent! The remaining 14¢ takes care of the overhead to keep our mission going, including oversight of the organization by utilizing third party audit and accounting firms, detailed financials available to our board quarterly and we remain compliant with required transparency by all 501(c)3 non-profits. Learn more about how we use funds received on GuideStar.
How does partnering with yoga studios like the Yoga Center Retreat help MARS?
Having the opportunity to partner with yoga studios like The Yoga Center Retreat allows MARS to expand our MARS Community to help save more animals! Through Puppy Yoga, we have gained new foster homes, volunteers, adopters, donors and general supporters to help further our mission in saving the lives of homeless pets while supporting people.
Are the puppies at puppy yoga available for adoption?
Usually, yes! If someone wants to adopt one of our animals, the first step is to complete an online application. Once a meet and greet has been scheduled, MARS has an Adoption Team that will work directly with potential adopters to find the best possible match with their home.
What are the benefits of adopting an older dog versus a puppy?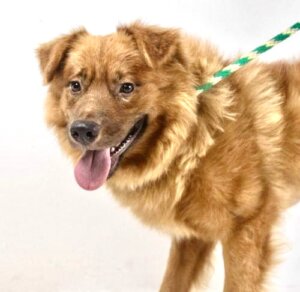 Compared to puppies, older dogs are often overlooked. They get left behind and forgotten as people tend to adopt puppies because "puppies are easier to train." However, older dogs have lived life and bring amazing characteristics from those experiences. While puppies have a lot of growing and changing to do, older dogs are often already house trained, done teething and have a lot of love to give!
Is there a dog that has been waiting awhile for a forever home that you could tell us about?
Thank you for thinking of a dog that has been in foster care for a long time! Reuter (aka Silly Billy) came to MARS on 6/29/19 from "one of the worst hoarding situations" we've ever seen in rescue along with 53 other survivors. Walks and sightseeing are fun, new experiences for him! Cats, dogs, and people all bring good things and fond memories for him…they bring snacks and playtime! When you look up "Happy Go Lucky" in the dictionary, there's little Silly Billy.
Is there a link where people can donate if they aren't able to go to puppy yoga?
Yes, yes, yes! Every pet's page has an easy donate button. For example, check out the button on Harte's profile page.
Stop by on December 14 to get a done of puppy love combined with yoga or visit Midwest Animal Rescue & Services, to learn more about all of the deserving doggos that are looking for a loving home.