back to (your) nature – bwca
july 8-11, 2023 – riverpoint resort & outfitters in ely, mn
Are you craving time in nature to go inward, reconnect with your true nature and hear your inner wisdom? It's easy to feel caught up in the hustle and bustle of our busy lives. Obligations and to-do lists take over and leave us drained and feeling disconnected. Throughout time, nature has been known to be healing, restorative and even to help us connect to our inner wisdom and spirit. This small group yoga retreat in BWCA, while staying in luxury cabins with direct access to outdoor adventure, offers all of that and more.
You'll experience daily yoga classes, meditations, workshops, outings in nature and time for journaling and self-reflection.  Your facilitator, Kat Sprole, will lead meditation, yoga, group workshops and ceremonies that will not only help you connect inward, but also create a community and bond with the like minded folks you're retreating with. Each activity and outing is specially designed to encourage deep reflection, going inward, and reconnecting with your true nature.
Each day will include an outing in nature such as canoeing from the peninsula of Birch Lake into the BWCA, kayaking, hiking, or blueberry picking. There will be optional excursions and time to unwind in the sauna or garden shower, hike, and take in the beauty of your surroundings.
New to activities on the water, outdoor adventures, yoga, or meditation? Not to worry! River Point Resort offers free instruction on fishing, canoeing, and kayaking that can be done as a group or individually. Kat has various experiences in outdoor adventures and has taught mindfulness, meditation and yoga to all experience levels. No matter your experience level, we've got you covered!
By the end of your time at this unique yoga retreat, you'll not only have reconnected to your true nature, but also cultivated a deeper understanding of your Self. You'll also leave our time together rejuvenated and with strategies for staying connected to your nature and wisdom, even if you're returning to a world of roads and technology.
Join us for a retreat in nature to get back to your nature!
accommodations
A short drive from Ely, MN, this lovely resort is located on the peninsula of Birch Lake. Just a few miles on the water and you'll be in the BWCA.
We will be staying in the villas which overlook the water and are surrounded by lush green space. You'll even be able to take advantage of the sauna and garden shower! Each villa has at least one private room, a sleeper sofa (that is very comfortable!), a shared bathroom, kitchen, patio or deck with lounge furniture, and a wood burning fireplace.
Birchcliff: 1 private room with 1 bed, 1 sleeper sofa
Aspenwood: 2 private rooms with 1 bed, 1 sleeper sofa
Stoneridge: 1 private room with 1 bed, 1 private room with 3 beds, 1 sleeper sofa
what's included
3 nights lodging in the Villas at RiverPoint Resort and Outfitters
Daily meditation practices
Daily Yoga sessions
Nightly Yoga Nidra
3 Workshops
3 Breakfasts
3 Lunches
2 Dinners
Canoe, blueberry picking, kayaking and other group outings
Workshop, ceremony and ritual materials
Use of River Point Resort motor boat, canoes, kayaks
Sauna
Garden shower
Guides for activities
Special welcome bags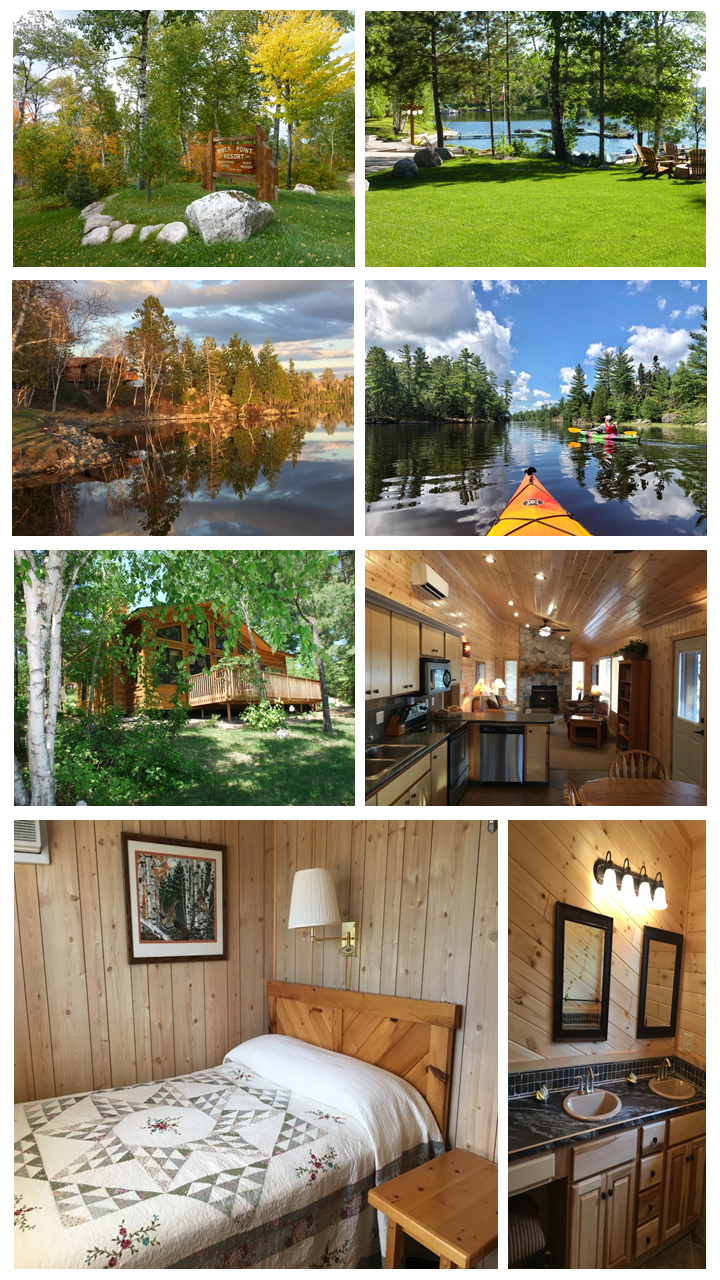 cost
Sleeper Sofa in open space: $1,500
Triple Occupancy in private room: $1,550

Single Occupancy in private room: $1,750
Space is limited so register today!
payment & cancellation policy
A $500 deposit saves your spot. Once registered, the deposit is non-refundable.
50% of the balance is due on or before March 8, 2023
The remaining balance is due on or before May 8, 2022
If canceling on or before March 7, 2023, all but the $500 deposit will be refunded
If canceling between March 8 through May 7, 2023, 50% of the balance (minus the $500) deposit will be refunded
There is no refund for cancellations made on or after May 8, 2023
not included
Flights or other travel expenses
Travel insurance
Transportation to/from optional excursions/activiites
Costs associated with activities and meals during free time
1 Dinner
Add on rentals of SUP's or sea kayaks
Permits for fishing or extra time in the BWCA