RYT 500 | HATHA, GENTLE, Yoga for Larger bodies
Rachel completed her 200-hour through the Yoga Center of Minneapolis and her 300-hour yoga teacher training through the Yoga Center Retreat.
CERTIFICATIONS AND TRAININGS
300-hour Yoga Teacher Training, The Yoga Center Retreat
230-hour Yoga Teacher Training, The Yoga Center of Minneapolis
Yoga For All Certified Teacher, Dianne Bondy
Mind Body Solutions' Opening Yoga, Adapting Yoga for Disability I/II with Matthew Sanford
Experiential Anatomy with Judith Hanson Lasater and Mary Richards
Restorative Teacher Training, Moya Mathews
Yoga Nidra Training, Tara Cindy Sherman
Yin Yoga Training, Tara Cindy Sherman
Meditation Teacher Training, Tara Cindy Sherman
Chair Yoga Training, Jes Rosenberg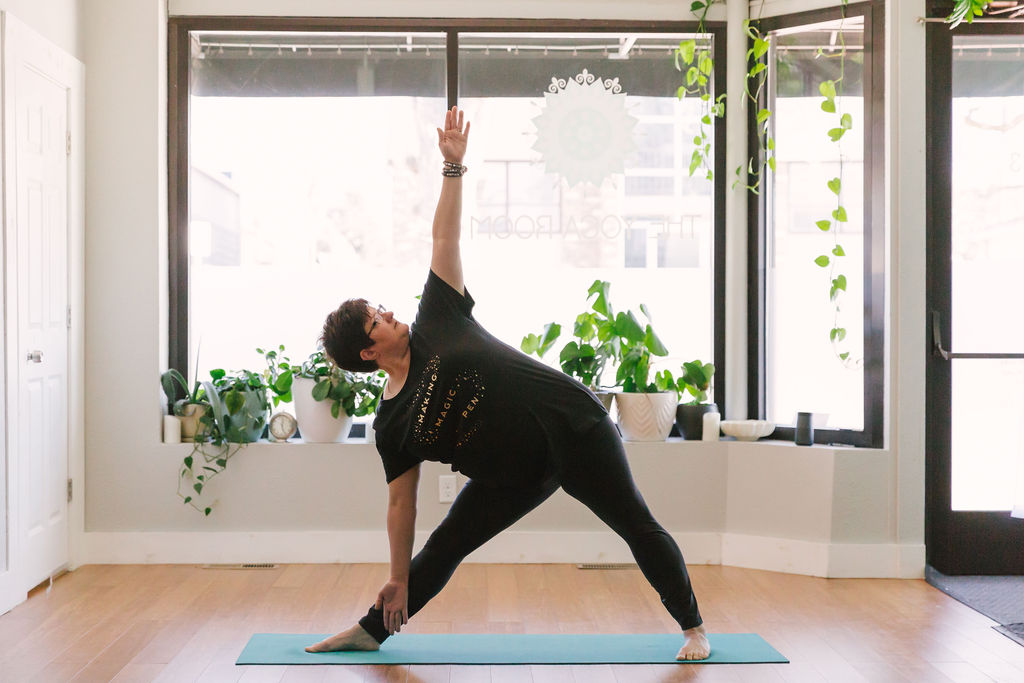 You can do yoga. Promise.
I became a yoga teacher to be the teacher I never had: plus-sized, body positive, and anti-diet. It's my mission to share yoga with people who don't think they look like yogis and who might feel uncomfortable in a traditional yoga space due their size, age, gender expression, sexuality, physical ability, or experience.
I'm all about getting off the hamster wheel of achievement and living mindfully in the moment. Yoga, pranayama (breathing exercises), and meditation help me get there. As a teacher, I'm more concerned about how a pose feels in your body than what it looks like. Your mat a sacred space, a laboratory where you can learn about yourself and befriend your body.
I completed my 230-hour yoga teacher training program at Yoga Center of Minneapolis and my 300-hour yoga teacher training at the Yoga Center Retreat. I am certified in Restorative Yoga, Meditation, and yoga for seniors. I'm body positive, eating disorder sensitive, queer and trans-friendly, and a part of the Health at Every Size (HAES) movement.
What is Your Favorite Style of Yoga?
Gentle yoga. And yoga nidra!
CHAI, COFFEE, OR KOMBUCHA?
Coffee: unsweetened with almond milk and always iced, even during the winter.
DO You hAVE PETS and If so, what kinds and their names?
Two dogs: Koty, a rescue from North Dakota, and Juno, a rescue from Kentucky.
FAVORITE THING TO DO WHEN YOU're NOT DOING/TEACHING YOGA?
Mixed media painting, walking my doggos, and whispering words of encouragement to my garden.
FAVORITE BOOK/MOVIE?
Current favorite book is The Art of Racing in the Rain and for movies, The Breakfast Club and The Blind Side.
LEAST FAVORITE YOGA POSE AND WHY?
Chair pose. It's never felt great in my body.
MOST FAVORITE YOGA POSE AND WHY?
Savasana. I'm always on the go and so I relish the active relaxation of lying on the floor in rest pose.
IF YOU COULD DO ANYTHING BESIDES TEACH YOGA, WHAT WOULD YOU DO?
Be the director of a theater company.
What do people tell you they love about your classes?
That they are accessible and anyone can do them.
three adjectives to describe yourself?
Goofy, approachable, down to earth.